Jared has been part of the labor movement since 2006. Through his work he crisscrossed the county working in a number of different communities and would see first hand how the actions or in-actions of the powerful impact people.

He has had a career of political, community and union organizing and has focused on helping communities to build power and effect change. He has championed healthcare, raising the minimum wage and helped a number of employees form their unions.

As a ward chair in the Democratic Party of New Mexico, Jared worked with his ward to promote community solar and community choice aggregation. Through that work it was apparent to all that the Democratic Party needed an Environmental Justice Caucus.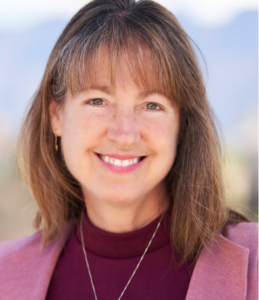 Athena Christodoulou, Vice Chair
Athena Christodoulou is a retired energy and environmental engineer. She has been a long time advocate for clean and renewable energy with several environmental and advocacy groups. We are in a climate emergency which will impact those already overly affected by fossil fuel pollution. She wants to be a force for real and effective change to re-establish everyone's right to clean air, water, and land.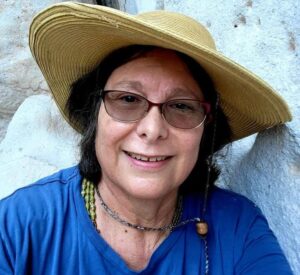 Janet Carter relocated to Santa Fe in 2019 and is making it her retirement home.  She has close family in the area and is drawn to the beauty and culture of the region.   Janet received both her undergraduate as well as her Doctor of Optometry degree from the University of California at Berkeley, and prior to coming to New Mexico she lived and practiced optometry in Nevada for forty years.    She was active in a number of political and environmental causes in Nevada, including serving on the Executive Committees of her county Democratic Central Committee and the Toiyabe Chapter of the Sierra Club.  She was also a member of the Environmental Justice Coalition of Nevada. Janet helped to found the Nevada Rail Coalition, an organization dedicated to amplifying the state's executive plan for clean and accessible rail transportation for both freight and passenger use.  
Janet is very passionate about improving public transportation and making it carbon-free and accessible to all.  She feels that this is an important step in mitigating climate change, and is proud to be working with the Transportation Working Group of the DPNM Environmental Justice Coalition. Janet has been active in progressive Democratic Politics since she was a teenager, and looks forward to helping with several local campaigns this summer.  She serves on both the Santa Fe county and the New Mexico state DCCs.  In whatever free time is left Janet enjoys walking, travel, cooking, and spending time under the stars.
I have volunteered my services for treasurer duties for over 20 years at non-profit organizations in Albuquerque as well as my current duties as the Treasurer for the DPNM Environmental Justice Caucus.  Having recently retired from the position as Systems Administrator for IT at a local museum here in Albuquerque, I have found many opportunities to lend my technical skills to the Democratic Party and other non-profits.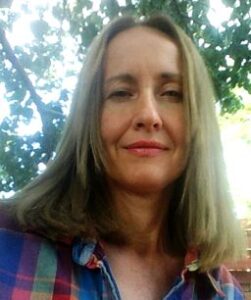 I love nature. I have been living here in Albuquerque, New Mexico for more than 10 years. I finished my first MA in Ukraine and my second BA and MA here at UNM. I took multiple classes and did a lot of research on environment in my undergraduate and graduate studies. My Master's thesis focuses on decision making between land conservation or housing development in urban areas. Currently, I serve on different Committees in a couple of local and national nonprofits. I support environmental justice, equal access to a healthy environment, clean air and water, ecosystems preservation, sustainable resources use, and science. I am very happy to be a part of our unique and resilient community. I look forward to serving as a CD-1 Chair and helping our communities grow and prosper.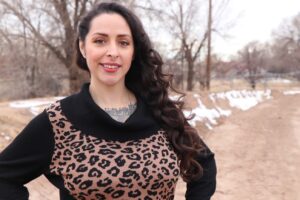 Nicole Olonovich, CD-2 Chair
Nicole Michelle Olonovich, CD-2 Chair,  is a disabled veteran of Operation Iraq Freedom. She is a victim of environmental toxins from being downwind of burn-pits 12 hours a day during her service to this country in Iraq (2004). This has motivated her to spent the bulk of her adult life in the political sphere. She lives by the motto "do better, be better" with an emphasis on actionable change. A Hispanic woman who comes from a large loving family with two loving lesbian mothers. Nicole is well versed in communications and a published author in multiple mediums. Earning two masters, degrees one in social work, as well as a masters degree in business. She has a strong focus advocating for historically marginalized BIPOC & working class communities, LGBTQIA+, women, and disabilities rights are her passion. Her goal in life is to work in partnerships with people and coalitions that demand human rights, equitable access, economic justice, and a deep understanding of the intersection of Mother Earth at the core of all.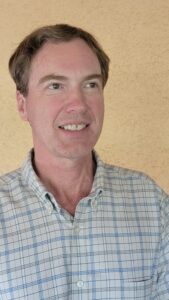 Will has a B. A. in Religion, an M. S. in Criminal Justice, and a graduate certificate in Organizational Leadership. He served in various capacities in correctional, protective, and social services organizations until 2014, when he became a Prison Rape Elimination Act (PREA) auditor and consultant and dedicated himself to improving safety in correctional facilities. He promotes Restorative Justice and Transformative Justice practices.
Throughout his career, he worked to build cooperative relationships with community agencies, service organizations, legislators, and individuals, to expand resources and promote policies. Will has always been dissatisfied with the pace of progress and supplements his vocational efforts with volunteer work, advocacy, and activism. In 2007 he received the Human Rights Commission Award from the City of Norman, Oklahoma.
A passion for environmental justice issues and how they intersect with social justice has been increasing during the past few years since moving to New Mexico with his family in 2016. He has become politically active in our state and serves as the Chair of the Democratic Party of Colfax County.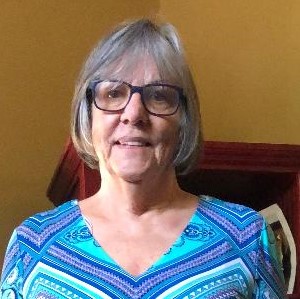 Muriel Carpenter, Officer At Large
Muriel has had many different careers and volunteer callings. She grew up in a post-WWII suburban community on Long Island, New York, entering the world at the beginning of the baby boom.  She shared her home with her mom, dad, two brothers, a sister and a beagle named Baron.  From her first day in a community pre-school, she loved learning and to this day takes classes at UNM, cherishing the connections this gives her with young people.
She graduated with a BA in Education from the State University College at Oswego, NY and a master's in education from Boston University and began her working life as a 5th grade teacher.  Her undergraduate economics professor told her that she should consider becoming an economist, but at the time, she couldn't envision that type of job for a woman. 
Eight years later (how times changed), she entered law school at Northeastern in Boston, earning her JD in 1980 and beginning her 20-year career as a civil litigator at a well-known Boston firm. She then moved from Boston to rural New Hampshire where she became a case manager in a children's mental health clinic.  She continued social work for incarcerated women after moving to Albuquerque and then taught English at CNM.
She has spent many hours training non-profit groups and serving on non-profit boards. She is committed to progressive politics, believing in the power of human groups to do good.